WHAT'S UP
Spring Fever on The Woodens
April 13, 2014: This
pair of amorous buffleheads
was spotted on the lower Woodens River a few days ago. They nest in tree cavities, but have not been recorded as nesting in Nova Scotia. This pair seems to have been thinking about it. Let's hope so!
Nova Scotia Watershed Assessment Atlas released
April 11, 2014: Dalhousie University's Hydrology Research Group has launched the first Nova Scotia Watershed Atlas and geo-database. Created in collaboration with Nova Scotia Environment (NSE), the atlas provides the first high-level assessment of the health and stressors of watersheds in Nova Scotia.
Read more
. Go to
http://www.sterlinglab.ca/
to download the Atlas and database. The Woodens River Watershed is watershed No. 64 in the atlas.
Rusty Blackbird Spring Migration Blitz - Please join!

April 2, 2014: Have you heard a squeaky-hinge song lately, or seen a flash of rust-tipped feathers under a bright yellow eye? Although occasionally overlooked as "just another blackbird," Rusty Blackbirds face an unfortunate and remarkable notoriety: this species has endured a decline more severe than that of any other once-common landbird - 85-95% in the past 40 years. The Rusty Blackbird Spring Migration Blitz challenges birders to scour the landscape for Rusty Blackbirds during this species' northward migration.
Read more
Look for & Protect Landbird Species at Risk in the FBLWA and adjacent areas
March 30, 2014: At a recent talk given to the
Nova Scotia Bird Society
, ornithologist Cindy Staicer described a developing program to enhance conservation of Landbirds Species at Risk in Forested Landscapes. For four of the five species at risk, there is suitable habitat in the FBLWA and either recent or historic observation of their breeding in or close to the FBLWA.
Read more
The Bridge, March 2014 Issue - lots of interest
March 23, 2014:
The Bridge
is the newsletter from the
Five Bridge Wilderness Heritage Trust
. Each short article is full of useful information and relevant to the work we are doing: Westerns Commons, Otter Lake, Bowater Mersey lands, adoption of Nile Mile River, Hubley Community Centre (HCC), May 25th May Fair, and their AGM, cited in the previous post. See
The Bridge March 2014
Keith Croucher of Bike NS is the Guest Speaker for the Five Bridges Trust AGM (Thursday March 27)
March 20, 2014: Five Bridges Wilderness Heritage Trust will hold its Annual General Meeting on Thursday, March 27 at the Hubley Community Centre, 4408 St. Margaret's Bay Rd, Lewis Lake. Registration is at 6:30 p.m. and the meeting will begin at 7:00 p.m. Keith Croucher of Bike NS will be the guest speaker.
More
Well attended, participatory AGM
March 13, 2014: We had a well attended AGM yesterday evening. A
new board
was elected, Richmond Campbell was presented with a book "WRWEO Days" in appreciation of his 19 years as Chair or Co-Chair (and for much more), and Nanci Lee and Jessi Filmore led a discussion about Youth and Family Engagement.
More
Wed. March 12th: WRWEO AGM
Mar. 8, 2014: We invite everyone with interests in The Bluff Trail, The Five Bridge Lakes Wilderness Area, and in lakes and streams making up the Woodens River system, or just in "getting outdoors" to participate in a discussion of the types of activities we might undertake over the next few years to engage youth and families. The AGM begins at at 7:00 PM, Tantallon Public Library, doors open at 6:30 to renew membership (or renew online).
Read more
. The Chairs' Report & Minutes & Reports from the 2013 event are available under the
Members
tab.
Conservation corridors good for seed dispersal as well as moose
Feb. 27, 2014: The Chebucto Peninsula now has a lot of protected land in big patches and small. To realize their full benefit for conservation, we need to connect them and to provide corridors across hwy103.
See Maps
. We often plan such corridors for animal movement; a new study shows they also benefit
seed dispersal.
More about Moose & Wildlife Corridors in the FBLWA
here
.
Saturday, March 1, 2014: Up!Skilling! Festival and Expo
Feb. 27, 2014: "Transition Bay is bringing together a wide range of trades, crafts and other skills persons to teach their skills. Book this unique event on your calendar and plan to spend a few hours or the whole day! Each skills-person will be teaching several times at a table or floor-space dedicated to learning. Become a 'Do-It-Yourselfer', and learn valuable skills that you can immediately take home and put into practice." 9 AM to 5 PM St. Luke's United Church Lower Hall, 5374 St. Margarets Bay Rd, Tantallon. -FREE-
Details
Tuesday Feb 25th: First Reading of Regional Plan
The Future of the Backlands?
Feb 23, 2014: First reading of the Regional Plan at Regional Council Tuesday, February 25th at 10:00am. As you may have heard, a group of developers is attempting to make last-minute changes to the Regional Plan that would open the land behind Purcell's Cove to development, a move which would negate much of what we have gained through the Regional Planning process as well as destroy a precious area. There is more - see
OurHRM Alarmed
. Please attend as poss. to show public support for Regional Plan. See
Council Agenda
.
UPDATE Feb 26th
: Members of WRWEO were well represented in the gallery at Regional Council on Tuesday. The mayor spoke strongly in favour of the Regional Plan and said it was unlikely he would support any amendments... but final decisions were deferred again. See
Metro News Report
Fives Bridges Trust: The Dump affects us all
Feb 16, 2014: A message to residents from the Board of Five Bridges Wilderness Heritage Trust. They note ill effects for The Bluff Trail: "For those of you who enjoy the Bluff Trail, Nine Mile River (which the Landfill sits next to), Rails to Trails and Wilderness area, the Disposal cells will be more visible, there will be more equipment noise, particularly hearing trucks back up. There will be more odours and blowing garbage because the cells will be above the tree line " and much more...
Please read
WRWEO Joins the Backlands Coalition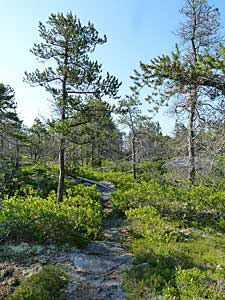 Feb. 13, 2014: The WRWEO Board has approved WRWEO joining the
Backlands Coalition
. The Backlands, sometimes known as the Pucell's Cova Backlands, are lands enclosed by Herring Cove and Purcells Cove Roads, extending from Williams Lake at the northwest to Power's Pond at the southeast. Protecting the Backlands would add an important chunk to the set of protected areas and parks on the Chebucto Peninsula.
Read more
Can our forests sustain continued clearcutting?
Feb 12, 2014: The request by Northern Pulp for access to an additional 125,000 green metric tonnes, part of it coming from the St. Margaret's Bay Bowater Lands, raises questions about the sustainablity of further clearcuts in an area already highly stressed by acid rain.
View letter
|
View response
Tuesday Feb. 11th: RP+5 version 4
Feb. 10, 2014: The latest & likely the final version of the Regional Plan +5 will be given first reading and a public hearing scheduled tomorrow (Feb 11th) at Regional Council. See
Agenda
. The full document is available on the Agenda site.
Former mayor of Halifax Co. speaks out on Otter Lake Commitments
January 22, 2014: Randy Ball, former mayor of Halifax County, recalls the process and commitments that led to the Otter lake Landfill.
Read article
Older Posts