WHAT'S UP
Thursday May 9, 2013: Otter Lake Landfill Community Information Meeting
The provincial government's intercession (Apr. 24th post, below) apparently notwithstanding, HRM is going ahead with its public consultation on the widely opposed, proposed changes to the Otter Lake Landfill. 7 p.m., Exhibition Park (200 prospect Road, Halifax). See
Flyer
and
Otter Lake Community Monitoring Committee website
.
Wed. May 8, 2013: Plants of the The Bluff Trail
May 6, 2013: The
Five Bridges Wilderness Heritage Trust
has revised it's hiker-friendly pamphlet on Plants of The Bluff Trail, now with colour photos. The Trust invites trail enthusiasts to the re-release of this publication at the Tantallon Public Library at 7 pm, Wed. May 8th.
View Poster
WRWEO Board Reaches Gender Equity!
May 1, 2013: In 2012, there were 3 females & 8 males on our Board, this year there are 7 females & 6 males. Mark Reed & Daniel Allaire left the board as they were moving away - we thank both for their contributions, especially on trails. We welcome four new members, all women! As well, Nanci Lee, who led the Appreciative Inquiry at our AGM, is a new Co-chair (with Richmond Campbell). See
Board of Directors
May 4, 2013: Cobequid Eco-trails Society Trail Build
April 29, 2013: Participants in our well attended trail build workshop on The Bluff Trail last fall (and others!) are invited to participate in a trail build on The Cobequid Trail. "It's a great experience and you can see how a wilderness trail takes shape. Be prepared to get dirty and have a fun time."
Details
Friends of Redtail Society Presents: Bob Bancroft
April 25, 2013: A YouTube Video of Bob talking about the Future of Forests and Forestry in N.S. This was the first of a series of presentations in the
Friends of Redtail Society
's Talking Forests series.
See
www.youtube.com/FriendsofRedtail
Otter Lake Changes Nixed by Province
April 24, 2013: A
proposal
to remove key environmental protection provisions and increase the height of the Otter Lake Landfill has now been
nixed by the province
. These changes would have affected the viewplane from The Bluff Trail as well as water quality and rodent activity in the area and were opposed by WRWEO.
Many thanks to HRM Councilor Reg Rankin & MLA Bill Estabrooks for advancing citizens' concerns.
Monday Apr 22nd: Donna Crossland on Wind and fire in gloomy forests
Apriil 15, 2013: Donna will provide a brief examination of 18-19th century forests, and describe how assemblages of floral species were influenced by natural processes and human-altered disturbances, as early settlers toiled in dim shadows cast from tall trees. Meeting of the NS Wild Flora Society, all welcome.
Details
Charter for FBLWA Community Stewardship Council signed
March 18, 2013: On March 16th, the five founding members which include WRWEO signed the Charter for this coalition, discusssed how it will operate and some of the things we hope to see happen.
Read more
.
Pics & Dreams from the AGM
Mar 17, 2013. At our AGM last Wed. we welcomed four new members to the board and had a stimulating discussion about our future. See
AGM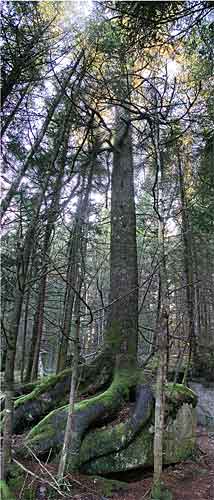 The Bluff Trail & Woodens River Watershed: What's Our Future?
Join Us on Wed March 13th
Mar 12, 2013: Nanci Lee, an avid wilderness hiker and runner experienced in community and organization consultations, will facilitate an open discussion of WRWEO's future roles at its AGM on March 13th. Youth on the Trail, Arts on The Trail, New Trails, Trail & habitat management, Lake and River Water Quality, Fish... lots to talk about. Bring your Ideas and Dreams & Friends!
Read more
Where we have been 1995-2013
Mar 12, 2013: To help us think about where we want to go at our AGM, we have compiled a list of accomplishments by WRWEO to date (1995-2013).
See
List
Western Crown Land Planning Process underway
March 12, 2013: Beginning on March 18, 2013 the Department of Natural Resources will consult the public on how the Crown lands in the Western region should be used in the future. It's a compressed process. Lunenburg and Halifax consultations are on April 4 and 8th respectively.
Read more
Province slow to act on Natural Resource Strategy

March 1, 2013: CBC Interview with Matt Miller of EAC. The strategy set timelines but there has been a lack of progress on significant issues. He explains the difficulties with the government's definition of clearcutting.
Go to
CBC interview
Province releases Our Parks and Protected Areas: A Proposed Plan for Nova Scotia.
Feb 28, 2013: "This plan advances Nova Scotia's efforts to protect and conserve the natural landscape, potentially adding 221 properties and more than 245 000 hectares (ha) - a combined landmass equal to nearly one-quarter the size of Cape Breton Island. And it proposes to protect more than 13 per cent of our province's outstanding lands. This plan will be the basis of our final consultation with Nova Scotians in 2013. Before any lands are finalized, we want to hear from you. "
Read more
FBLWA Stewardship Coalition formed
Feb 19, 2013: On February 5, 2013, representatives of the five groups that played a leading role in the protection of the Five Bridge Lakes Wilderness Area (FBLWA) via the Chebucto Wilderness Committee agreed to form a Community Stewardship Coalition...
Read more
Best Trail Build Ever!
Dec. 11. 2012: Twenty one volunteers partcipated in the trail-build on Dec. 9th, the best trail build ever for The Bluff Trail. A lot of work was accomplished, including 30 meters of stone tread, worth $100 a meter or $3000. Thanks to all for their work and support!! Thanks also to Garnet McLaughlin and his foreman Jeff of Cobequid Trail Consulting for leading us in the work.
See Photos by Paul Berry
Also short videos by Jim Foster:
Video 1
|
Video 2
Nova Scotia aquires Bowater Lands
Dec. 11, 2012: It was hardly a secret at this point that the province was likely to buy the Bowater lands (555,000 acres in total), and a deal was announced today. Amongst many beneficiaries, it's good news for wildlife in the Five Bridge Lakes Wilderness Area as the adjacent, much larger St. Margaret's Bay District Bowater Lands will be under provincial control. The province has asked groups to submit proposals to operate Crown forestlands in their communities as "commmunity forests" a move described as a huge opportunity for Nova Scotians to pull together and find creative solutions for our economy and our environment".
Read more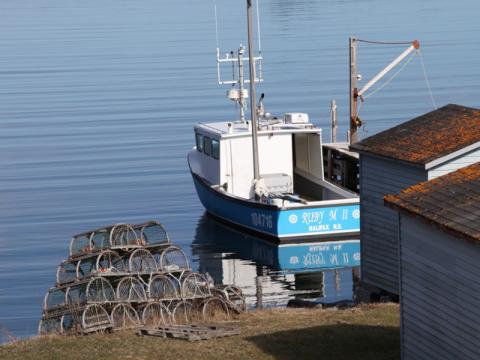 Support APES, Friday Dec 7
Dec. 6, 2012: The
Association for the Preservation of the Eastern Shore
calls on citizens of the Eastern Shore & supporters to march on the legislature. Meet December 7, 2012, 1P.M. @ Grande Parade, Halifax. APES will be depositing its responses to the Environmental Assessments posted as part of Snow Island Salmon's application for open pen salmon feedlots in Shoal Bay and Spry Harbour with the Minister of the Environment.
Read more
Sunday Dec 2nd: Trail-Building Workshop, now postponed to Dec 9
Nov. 29, 2012, Update Dec. 1, 2012: Garnet McLaughlin, a recognized expert in stone treadwork construction, will again lead us in working on drainage areas on the trail. Come learn about stone tread trail construction and contribute to sustainability of The Bluff Trail.
Read more
Sunday Nov. 25th: Young Naturalists
on The Bluff Trail
Nov. 7, 2012: WRWEO Board member Nanci Lee will lead a hike for the Halifax Young Naturalists Club on Sunday Nov. 25th. Programming for this club is geared for 7-12 year olds.
Read more
. Welcome Young Naturalists!
UPDATE (Nov 29th):
Photos & Report
Tues. Nov. 13th: Public Consultation for McIntosh Run Trail
Nov. 6, 2012: The upper part of the MacIntosh Run begins at the outflow from Long Lake and goes through residential neighbourhoods. The lower part goes through the backlands and flows into the sea at Herring Cove.
The McIntosh Run Watershed Association has built an active transportation trail alongside the upper part of the run. They envisage extending the trail the entire length of the run, including a wilderness trail which would be "a rugged trail across the backlands to Herring Cove; the trail will be varied, in some places climbing along bedrock ridges, and in other places hugging the river's edge." Show support by attending this public consultation session, Captain William Spry Community Centre, 6:30 -0 8:30 pm. See
McIntosh Run Watershed Association
Nov 4th Hike "A Great Success"
Nov. 6, 2012: Upwards of 65 people participated in the hike with Michael Haynes. Barbara K forwarded some
photos
. We would welcome more photos as well as comments about the hike and trail. Please send to wrweoATyahoo.ca.
Work on Boardwalk Nov 2 for about a week
Nov. 2, 2012: Replacement of the large boardwalk near the entrance to The Bluff Trail has begun, working from the far end of the old boardwalk toward the trail head. Please use caution around the construction site, as there can be exposed nails and other hazards, and please follow the directions of the workers. They are trying to keep the trail open even as they replace the rotting boardwalk. Work should be complete in about a week. The company doing the work is Cobequid Trails Consulting led by Garnet McLaughlin.
Growing pressure to protect Purcell's Backlands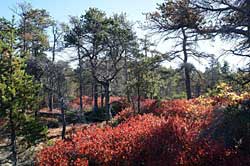 Oct. 30, 2012: CBCL Limited consultants asked for feedback on proposals to extend water & sewage along Purcell's Cove Road. At a packed meeting, participants expressed loudly & clearly "not needed, not wanted" and called on HRM to conserve the Purcell's Cove Backlands for wildlife and wilderness recreation.
More
Mon. Nov. 5th: David R. Boyd on Right to a Healthy Environment
Oct. 27, 2012: "David R. Boyd, one of Canada's leading environmental lawyers, describes how recognizing the constitutional right to a healthy environment could have a transformative impact, empowering citizens, holding governments and industry accountable, and improving Canada's green record." He will be talking at the Dal Law School at 7 pm.
View poster
Deer Hunting season: Fri Oct 26 -
Dec 1, 2012
Oct. 25, 2012: Hikers should be aware that hunting is allowed on The Bluff Trail and are advised to wear blaze orange vests & caps during the deer-hunting season. Sundays are no-hunting days.
Late bloomer on The Bluff
Oct. 24, 2012: Our native witch-hazel can be found on The Bluff and is in bloom this time of year - see
2009 pics
. It has close relatives in eastern Asia -
read more
Sunday November 4th, 2012: The Bluff Trail Hike Accompanied by Michael Haynes
Nov. 17, 2012: There will be an opportunity to do the first loop or the first two loops of The Bluff Trail. Michael Haynes is author of Hiking Trails of Nova Scotia which saw its 8th edition in 2002. More recently he has published Trails of Halifax Municipality (2010), Hiking Trails of Cape Breton (July 2012) and Hiking Trails of Mainland Nova Scotia is to be launched Oct. 22nd, 2012.
Read more
Friday Oct 19th: Farmed Salmon vs. Wild
Nov. 17, 2012: Ransom A. Myers Lecture in Science & Society: "Farmed Salmon vs. Wild", by Alexandra Morton, Founder & Director of the Rainforest Research Society, Simoom Sound, BC. Potter Auditorium, Rowe Building, 6100 University Avenue, 7:00 pm. "Coastline will be an aquaculture dump site, marine biologist warns" -
Chronicle Herald
Sunday Oct 15th: Trail-Building Workshop
Oct. 6, 2012: Join us for the first build of the Bluff Trail as a newly designated Wilderness Protected Area! Garnet McLaughlin of Cobequid Consulting will lead us in trail restoration on the first loop. Children and youth most welcome!
Read more
Troop Island Protected
Oct. 5, 2012: A campaign to raise $820,000 to purchase 28 acres of Troop Island in St. Margaret's Bay has been successful through the efforts of the St. Margaret's Bay Stewardship Association, the Nova Scotia Nature Trust and many volunteers and donors. The island, not far from the mouth of the Woodens River, boasts beautiful beaches, old growth forest, intertidal marsh lands, a rich bird life, a large freshwater pond and more. Read more
About Protection
, view some
Pics
Buy Back the Mersey: Three motions passed at WRCC
July 24, 2012: Last night at meeting of the WRCC (HRM's Western Regional Community Council comprised of Councillors Reg Rankin, Peter Lund, and Steve Adams) three "Buy Back the Mersey" motions were passed unanimously. Report by Geoff LeBoutiler.
Read more
| More about
St. Margaret's Bay Back Country
Tuesday, July 17th: Buy Back the Mersey Rally
July 11, 2012: A Rally/Information Session to address options for the Bowater-Mersey Lands including the 150 square mile block near Tantallon will be held at 7 p.m. at the Hubley Community Hall, 4408 St. Margaret's Bay Road. There is lot's at stake for forestry, recreation, conservation - please attend!
See Poster
|
Masthead News Item
One-step liquidation worst case scenario for Bowater Lands
July 5, 2012: These lands include 150 sq. mile of backcountry that feed St. Margaret's Bay Hydro-electricity system. See comments by
Chris Miller of CPAWS
,
OHV groups
and
others
calling for government action to keep the lands in forest.
Monday, June 4: Ban open-pen & support closed-containment salmon aquaculture
Post-event Update
June 5, 2012: 109 groups, including WRWEO, have signed on to the Coalition. Approx. 300 attended the Press Conference. See
CTV report
. May 28, 2012:The Atlantic Coalition for Aquaculture Reform is holding a press conference & Rally on Monday June 4th, 10am to Noon at the Lord Nelson Hotel, Halifax. Show your support for a ban on open pen salmon farms and support for closed containment systems. See
WRWEO's letter
,
Salmon Wars
(Silver Donald Cameron video),
Closed Containment in N.S
,
Ford and Myers Paper
, & more about the
June 4th event
.
Thursday May 31: Blue Mountain Birch Cove Lakes Regional Park

Post-event Update
June 5, 2012: See
Wild surprise as proposed park doubles in size
in The Coast.
May 18, 2012: an Information event to share the HRM Vision for this long awaited Regional Park - Blue Mountain Birch Cove Lakes. Come out and view the maps and learn more about and support the proposed plans that will help shape the largest wilderness urban park east of Montreal. 6:30p m preview for 7pm presentations at St Peters Church Hall, 3 Dakin Drive (near Kearney Lake Rd and Bedford Highway, Halifax.
Read more
Sat. June 2, 2012: Trail Running Workshop on The Bluff Trail
May 24, 2012: To celebrate International Trails Day (June 2), WRWEO will be hosting a trail-running workshop on The Bluff Wilderness Trail.
Read more

Harrison Lewis Centre spring offerings
May 28, 2012:
Women-only chainsaw course
Patrick Allan, certified instructor - June 1 - 3, 2012;
Introduction to Plants and Ethnobotany
- June 8 - 10, 2012;
Writing from Nature with Harry Thurston
- June 15 - 17, 2012 and MORE - see
HLC Programme Details
Montreal and Quebec City go for Greenbelting
April 12, 2012: The Quebec government announced in their budget on Tuesday that $60 million will be used to develop greenbelts in Montreal and Quebec City. Our HRM Alliance is proposing a greenbelting solution for Halifax.
Read more

Monday April 16th: Meeting about Business Park Expansion
April 11, 2012: Expansion of the Bayers Lake Business Park threatens the integrity of the Blue Mountain Birch Cove Lakes Wilderness Area. A meeting to inform the public about this issue will be held on Monday, April 16th April 7:00 pm at Keshen Goodman Library. See
Poster
Trail Work
April 9, 2012: Our volunteers do an immense amount of work to maintain The Bluff Trail and the associated parking lot. Recently, several volunteers cleared a fallen tree from the trail and made a new bench and a crossing for a stream in the process. See
Photos
Details of Our HRM Greenbelting Proposal Released
April 5, 2012: Go to
Our HRM Alliance website
for details of their (our) proposed Greenbelting of HRM. It envisions four physical zones (Protected areas and natural corridors, Natural resources and agriculture, Rural communities and Coastal Management Area, Regional Centre and suburban growth centres) and four corresponding zones of policy that can help direct growth and development within HRM.
Sun. April 1, 2012: Poetry in The Bluff
Mar. 23, 2012: Join us on a light 8 km meditative hike on The Bluff Wilderness Hiking Trail. Silent, reflective hike in. Poetry exercise (optional). Social hike out.
Read more
Apr. 2, 2012: View some
Photos from the Event
Mon. March 19th, 2012, at Tantalon: Regional Plan Review and Release of a Draft of the Greenbelting Solution
Mar. 13, 2012: HRM is holding a public consultation meeting in connection with the first five year review of the Regional Plan March 19, 6:30 pm - 9:00 pm at the St. Margaret's Centre in Upper Tantallon. Also on the same day & place but at 10:30 am: Release of a Draft of the Greenbelting Solution.
Read more

N.S. Wetland Courses
Feb. 11, 2012: The Fern Hill Institute for Plant Conservation in assocation with the K.C. Irving Environmental Science Centre is offering four practical 3-4 day wetland courses in 2012.
Details
Tuesday March 6: AGM & Bob Bancroft on Interacting with Wildlife in Protected Areas
Feb. 8, 2012:
Please mark this one on your calendar.
Our AGM will be held at the Tantallon Library, Tuesday, March 6. Doors open at 6:30; meeting starts at 7:00 with formal business lasting about 40 mins. Then keynote speaker
Bob Bancroft
will talk about moose and coyotes and other wildlife in protected areas and how we interact with them. All welcome.
More details
Sat & Sun March 3rd & 4th: Woodlot Seminars/Worskhops at Tantallon
Feb 17, 2012: Trees Company is offering a free 6-hr workshop on
Chainsaw Safety & Maintainence
on Saturday followed by presentations on Sunday on
Woodlot Management, Tree and Disease identification
&
Woodlot Management Techniques and the Structure of the Acadian Forest
. They are being held at Tantallon Superstore Community Room.
More Details
Nova Scotia Environment seeking Info on Vernal Pools
Feb. 2, 2012: Vernal pools are small, shallow wetlands that lack permanent inlet or outlet streams and often dry out in the summer. They provide critical breeding habitat for frogs, salamanders, insects and fairy shrimp, and feeding and drinking sites for birds, mammals, turtles and other wildlife. Are you aware of any shallow wetland pools in the forests near your home or near places you vacation, hike, hunt or bird watch?
Please tell NSE about them!
.
Local Lakes Not Yet Safe for Winter Activities!
Jan. 17, 2011: Local lakes have thin ice and open water. Check out HRM's Ice Thickness Reports when you think it's ready. The website Lake Ice describes how to read the ice and how to be safe on the ice. It's a "must read" for ice-goers.
Applied Stormwater Management Workshop
Jan 13, 2012: This 1&
1/2
day workshop is being offered Feb 20-21 by the Ecology Action Centre in collaboration with the Halifax Regional Municipality Environment and Energy Office, Halifax Water and the Insurance Bureau of Canada. It is designed to increase capacity of participants to identify and implement stormwater Best Management Practices to reduce infrastructure damage, flooding and impacts to marine and freshwater systems. Limited enrolment; register by Feb 3.
Details
Thoughts By A Stream.. and for the New Year
Jan. 1, 2012: Landscape painter Mark Brennan shares scenes and sounds from the Acadian Forest in this and other very moving
video
and
audio
recordings. Mark's plea to recognize the intrinsic value of all living things echoes thoughts expressed in the
Dedication to The Bluff Wilderness Hiking Trail
.
Seven Solutions for a More Sustainable, More Liveable HRM
Dec. 1, 2011: On Wed., Nov.30th, Our HRM Alliance, of which WRWEO is a mamber, presented their seven recommendations for a more sustainable, more liveable HRM. "The solutions were developed with 33 groups and with the needs of urban, suburban and rural residents and taxpayers in mind," says Jen Powley, Alliance Coordinator.
Read more
Monday Dec. 5: Talk on Protected Areas in N.S.
Nov. 26, 2011: Dr. Martin Willison will give a talk on Protected Areas in N.S. at 7:30 pm on Monday Dec. 5 at the Museum of Natural History Auditorium (1747 Summer St., Halifax). The title is "From Picnic Parks to Systematic Protection of Biodiversity: A Review of the Development of Protected Areas in Nova Scotia". The talk is a free public lecture in the
Nova Scotia Institute of Science
150th Anniversary series.
Read more
New data on acid rain in the Woodens River Watershed
Nov. 20, 2011: Bob Chambers reports on acidity of rain and lakewater measured periodically from November 5, 2010 to October 30, 2011. See listing under
Water Quality
on this website.
Bluff Numbers Count!
Nov. 16, 2011: Thanks to the efforts of a WRWEO volunteer, there is now a "Bluff Numbers" booklet at the junction for the Pot lake Loop, where the
Trail Dedication sign
is located as well. Please take a moment when you go by this point to make an entry in the book. Most important: provide the date, and number in your group. This will help us to better uderstand trail usage for most effective planning. See
Photo.
What's NOT going to happen to barrens in the FBLWA
Nov. 2, 2011: Where it's not protected, barrens habitat can become prime real-estate. See
Requiem for a Barrens
.
Article expresses concern for the moose
Oct. 26, 2011. An article in
OPENFILE
about the new wilderness area expresses concern about the effects of recreational activities on the moose. One expert interviewed suggested there might be some restrictions during the calving/immediate post-calving period, an idea that has been discussed by WRWEO members (see
Moose & Wildlife Corridors 2
)
Oct. 25, 2011: The Five Bridge Lakes Wilderness Area is designated under the Wilderness Areas Protection Act.
In a ceremony at the St. Margaret's Bay Centre, The Honourable Sterling Belliveau, N.S. Minister of Environment, designated lands of the Five Bridge Lakes Wilderness Area under the Wilderness Areas Protection Act. See
NSE Press Release
and page on the
Five Bridge Lakes Wilderness Area
. After the designation, WRWEO Co-chair Richmond Campbell conducted a virtual unveiling of the new sign at the trailhead for The Bluff Trail. See
Photos from the event
Formal protection of Five Bridge Lakes Wilderness to be be announced on Tuesday Oct 25th
Oct 24, 2011: Nova Scotia Environment will announce formal protection of Five Bridge Lakes Wilderness Area on Tuesday Oct 25th at a ceremony at The St. Margaret's Centre in Tantallon begining at 1 p.m. That will be followed by a virtual unveiling of the new signs at the Bluff Trail at 2 pm, also at Tantallon (NOT at the trailhead).
Read more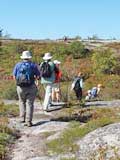 Trail Camp on Nov 5 & 6.
Oct. 20, 2011: WRWEO members are invited to attend Trail Camp, a two day event (Nov. 5 & 6, 2011) where volunteers as well as government representatives get together to discuss issues about trails in Halifax.
Read more
Monday, Oct 24th: Nova Scotia's Diverse Forest Ecosystems
Oct. 19, 2011: Peter Neily and Eugene Quigley of the Nova Scotia Dept. of Natural Resources will talk to the Nova Scotia Wild Flora Society about Forest Ecosystem Classification (FEC) in Nova Scotia, highlighting results of ten years of study on over 1500 FEC plots. All welcome! 7:30 p.m. Monday, Oct 24th at N.S. Museum of Natural History, enter via the parking lot.
Read more
N.S. Wetland Conservation Policy released
Oct 18, 2011: The province released its Wetland Conservation Policy on Oct. 14th. The policy "identifies what legislation, regulations, and policies are currently relevant to wetland conservation; clarifies the roles and responsibilities of government and the public in relation to wetlands; and makes this information more accessible to Nova Scotians. Ultimately, the policy establishes specific objectives intended to prevent the net loss of Nova Scotia's wetlands."
Read more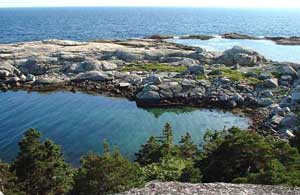 N.S. Government posts Draft Coastal Strategy
Oct 13, 2011: The government posted the much awaited draft Coastal Strategy today and is seeking feedback until November 30th, 2011. See
Our Coast
to download draft Coastal Strategy, feedback questions and online feedback form. The Coastal Coalition of Nova Scotia comments: "A Good Start; now let's get moving on an Act!" - see
Press Release
Sun. Oct 23rd:


Free Workshop on Forest Health and Stewardship

Oct 6, 2011: MTRI, NFA, Whippletree Farm and the Warners are sponsoring a half day (12-5) workshop. Come find out more about traditional woodland crafts, portable miling, forest regeneration, selective harvests…

View Poster

Tues, Sept. 13th:


Sep 5, 2011: Development in Susies Lake/Blue Mt-Birch Cove Lakes area

Bruce Smith and others from Halifax North West Trails Association will make presentations at 7 pm related to impending sale of 180 acres of Public Lands in the Bayers Lake Business Park which will impact access to Susies Lake/Blue Mt-Birch Cove Lakes area. Also, future plans for the extension of the trails in Halifax West will be discussed. For details, please

View Poster

.
Saturday, Sept. 17th:


Volunteer Trail-Building Workshop with Garnet McLaughlin

Aug. 27, 2011: Learn ecologically-sensitive and highly sustainable trail-building techniques by participating in this practical workshop on The Bluff Trail.

Read more
Sunday, Sept. 11th:


Hike and Compass Work on The Bluff Wilderness Hiking Trail

Aug. 27, 2011: Join the Woodens River Watershed Environmental Organization on Sunday Sept. 11th for a 5-6 hour hike over the rough terrain of The Bluff Wilderness Hiking Trail. We will be hiking both Pot Lake and Indian Hill loops while doing some compass work.

Read more
New protected areas for Nova Scotia
July 29, 2011: The Nova Scotia Dept. of Environment has identified potential lands for future protection required to achieve the 12% figure by 2015 and is seeking input from individuals and groups on which of these sites to select. A lot of land has been or is slated for protection on the Chebucto Peninsula, including the Five Bridge Lakes Wilderness Area. A major block of crown land that is NOT currently slated for protection but for which a number of groups have been seeking protection lies in the Herring Cove Area.
Read more
WRWEO Member publishes "Urban Tigers"
July 20, 2011: Local resident and
WRWEO member Kathy Chisholm has recently published a novel called Urban Tigers, Tales of a Cat Vet.
It is a humorous account of "Dr. Emily McBride's" first year at Ocean View Cat Hospital. Kathy and her husband Hugh Chisholm plan to use any profits from the sale of the book to help animal welfare and wildlife preservation groups (including habitat preservation organizations like WRWEO). For example, they were able to raise $1000.00 for Pierre's Alley Cats Society at the recent book launch.
Read more

Low Impact Forestry Workshop August 3,4
July 17, 2011:
Managing small woodlots for timber and non-timber values
. Picea Forestry Consulting and horse logger Tristan Kelley join us at the
Harrison Lewis Centre
woodlot for practical, In the field instruction.
Read more

Workshops for the Nature-Oriented at Harrison Lewis Centre
July 5, 2011: The
Harrison Lewis Coastal Discovery Centre
at East Port L'Hl'bert on Nova Scotia's south shore hosts a variety of workshops of interest to nature orinted people. Amonst those coming up:
July 8-10: Writing From Nature
,
Juty 15-17: GPS for Farm and Forest
,
July 29-31: Know and Grow Wild Mushrooms
,
August 12-14: Plein Air Watercolour, Painting with Roger Savage.
See
2011 Schedule
for details and other workshops except for
Mushroom Workshop
. Aug 2-5 is Forestry Week.
Our HRM Alliance
July 4, 2011: WRWEO is a member of
Our HRM Alliance
. "The Alliance came together because our members want to ensure HRM is a great place to live for our entire lives and for the entire lives of our children and grandchildren."
Older Posts